Submitted by Jaime Murphy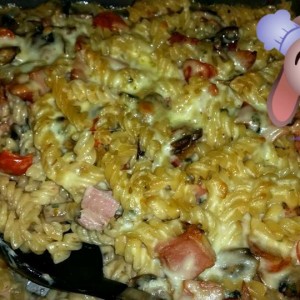 Loaded Mac N Cheese
Ingredients
250g spiral pasta, cooked and set aside.

4 rashes bacon, diced

1 onion, diced

2T butter

1T minced garlic

200gm sliced mushrooms

1/2 punnet cherry tomatoes, halved

2T chopped fresh parsley

2 cups milk

1 packet of cheese sauce (powder)

1&1/2 cups shredded cheese plus extra to top

80gm shredded fresh Parmesan cheese

Pinch of smoked paprika
Instructions
Fry off bacon, onion, and garlic in butter.

Mix milk and cheese sauce packet.

Put everything except pasta in slow cooker and mix. Cook on high for 2.5 hours.

Add pasta and mix through.

Transfer to oven dish and top with cheese. Bake in hot oven for 5-10 minutes until cheese has melted.