A delicious roast for the whole family to enjoy
Submitted by Lily Fleming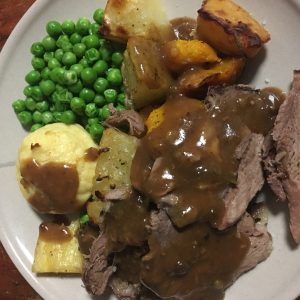 Roast Lamb and Gravy
A delicious roast for the whole family to enjoy
Ingredients
1 Leg of Lamb roughly 1.5kg

1 cup oil

1T dried oregano

1T dried thyme

1T dried rosemary

1T fresh chopped rosemary

Salt and pepper

Fresh rosemary sprig for bottom of SC

1-2 whole bulbs of garlic, peeled and separated

Water & gravy powder for gravy at the end
Instructions
Put garlic cloves & rosemary sprig in the bottom of the SC

Mix oil & chopped herbs

Rinse off lamb roast portion, pat dry and rub thoroughly with oil herb mix

Place in SC and cook 6-8 hours on low depending on size

Once lamb is finished cooking I like to put it in the oven at 180C until it's crisped up a little on the outside

For gravy once the lamb has finished cooking, boil kettle and mix gravy powder with water to make about 2 cups worth of gravy. Add 2 or more cups of the leftover oil in SC. Heat on stove over low-med heat until thickened.

I serve with roast veg, peas & Yorkshire puddings.