Submitted by Yvonne Chapman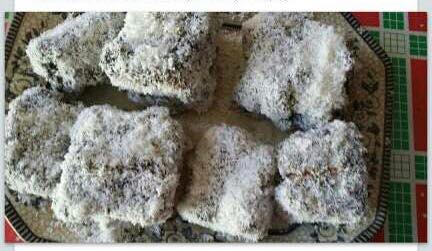 Licorice Lamington's
Ingredients
400g pk soft eating Licorice chopped finely

2 cups boiling water

0ne pk moist vanilla cake mix

2 -3 cups Desiccated Cocanut

One teaspoon vaills.
Instructions
Place a teatowel under slow cooker lid and switch on high to heat up.

Chop Licorice.

Add to slow cooker Licorice and boiling water, stir and place lid back on. Stirring every 10 to 15 minutes.

On a plate place coconut and cover with plastic wrap.

In a bowl mix cake mix according to pack, replacing butter for vegetable oil instead.Adding one teaspoon of vanilla extra. Beat.

Keep checking Licorice sauce and stirring. It wont all melt there will still be bits in sauce. Add extra hot water as necessary and stir in to keep a consistent melted chocolate texture.

Add cake mix to greased and lined tin. Bake in oven for 18 minutes on 140 fan forced or 160 regular oven.

Keep stirring sauce adding more hot water as necessary.Sauce should be a thick but watery texture like melted chocolate. Switch to low on slow cooker and place lid back on.

Place cake on cooling rack. When cool slice into little 6cm to 8cm squares.

Working quickly, dip cake into hot sauce then roll in coconut, repeat.

Place lamingtons in a single layer in fridge for 2 hours to set.