Submitted by Melissa McClelland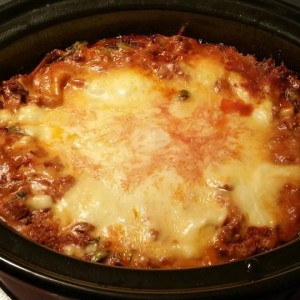 Lasagna
Ingredients
Meat Sauce
1 kg minced steak

1 tbls oil plus spray olive oil

2 x 425g cans tomatoes

2 medium onions

200g mushrooms

2 clove garlic

280g tomato paste

2 teas oregano

2 teas basil

Pinch salt

Pinch pepper

120g spinach

Mozerella and parmesan - however much you like of each!

Dry Lasagna sheets/srips
Microwave Béchamel Sauce
600ml milk

2 tbls butter

2 tbls flour
Instructions
Meat Sauce

Heat oil in large fry pan, fry onion, garlic, minced steak, mushrooms, herbs, salt and pepper for 5 minutes to slightly brown and get big lumps out. Add tomatoes, spinach and tomato paste, stir to combine.

Microwave Bechamel Sauce

Melt butter for 30 seconds or so in microwave, stir flour in and cook for 1 minute so it resembles breadcrumbs. add milk, stir to combine. cook in 1 minute bursts until thick. (took me approx 3 minutes total)

Prepare Lasagna

Lightly spray slow cooker dish with oil. Pour meat, then a layer of bechamel into the dish. Arrange uncooked Lasagna strips over the bechamel. Cover liberally with meat sauce, bechamel and some mozzarella. Continue alternating layers of lasagna, meat and bechamel. Arrange mozzarella over bechamel and then sprinkle with Parmesan cheese. cook for 2 hours on high then 1-1.5 hours on low.

Or 6-8 hours on low depending on what your slowcooker is like.

Cook with tea towel trick under the lid.