Submitted by Brett "Tyga" Danvers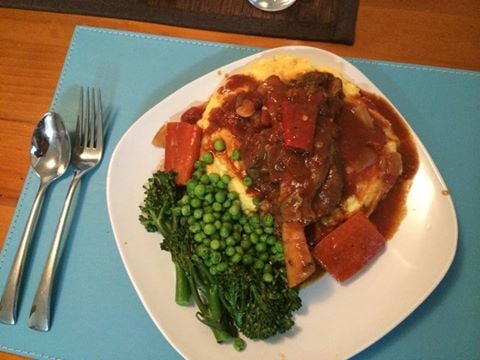 Lamb Shanks
Ingredients
2 tablespoons olive oil

4 (1kg) French-trimmed lamb shanks

1/2 cup plain flour

2 medium brown onions, chopped

2 medium carrots, chopped

4 cloves garlic, crushed

4 tablespoons tomato paste

1/2 cup red wine

2 cups beef stock

2 x 400g cans chopped tomatoes

2 tablespoons sugar

1 bouquet garni (parsley stalks, bay leaf, thyme sprig, marjoram tied with string)
Instructions
1. Heat half the oil in a large frying pan.

2. Put shanks in a zip lock bag with seasoned flour. pan fry searing all sides of shanks add to slow cooker

3. Add remaining oil and fry slightly the onions carrots and garlic then Add the tomato paste and cook for a minute.

4. Add the wine and stock to pan scrap up all the bits on the bottom of pan (don't cook),. Add tomatoes, sugar and bouquet garni stir and pour over the lamb in the slow cooker.

5. Cover; cook on low for 5-7 hours or until lamb is soft and falling off the bone

6. Remove the lamb from the slow cooker; cover to keep warm. Turn the cooker to the high and cook uncovered for about 30 minutes or until sauce thickens slightly. (You can do this on stove in pot if u like) Remove any fat from the surface. (I use paper towel or a couple slices of bread)

7. Serve the lamb with the sauce, Mashed potato or instant polenta and steamed green vegetables, and crusty sour dough bread

if desired.