A tasty lamb and vegetable slow cooked casserole
Submitted by Maddie Stevens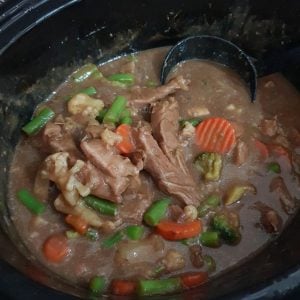 Lamb Casserole
A tasty lamb and vegetable slow cooked casserole
Ingredients
6-8 lamb chops

1 thin sliced onion

1-2 sliced carrot/s

Broccoli florets

Cauliflower florets

3-4 diced potatoes

1 diced sweet potato

1 pumpkin diced

3 x liquid satchets lamb and rosemary gravox gravy. Alternatively you can use any powdered gravy as long as mixed together with water.
Instructions
1. Add some gravy to the bottom of the slow cooker, spread some sliced onions.

2. Place 3 or 4 lamb chops on top of the sliced onion and gravy.

3. Repeat step one.

4. Once all ingredients are added to the cooker, place lid on top and on low for 7-8 hours. All cookers vary times.
Notes
Towards the end you may want to add some cornflour to water and thicken the gravy to your casserole.

You can also add sliced mushrooms