KitchenAid Artisan Slow Cooker – 5.7L
It doesn't matter how many slow cookers I test, review or own, I'm still always excited to trial a new one 🙂
I was especially keen to try this KitchenAid slow cooker because it has features I've never had on any others I've owned!
So let me walk you through this gorgeous machine step by step ….
FEATURES
5.7L capacity removable ceramic cooking bowl.  It is not safe for microwave or cook top and while not recommended for the oven it's noted that it is oven safe for up to 140C/300F.  You can use it directly on the dinner table as a serving dish if you prefer.  I was surprised to note that the cooking bowl is marked with lines for minimum and maximum fill.  A handy guide to have, especially for those new to slow cooking.  The large pot capacity is great for families of all sizes!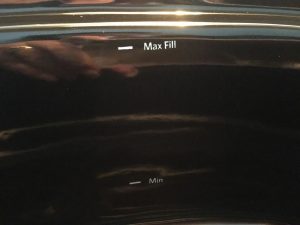 Stylish stainless steel cooker base with large handles so that you can lift it easily, even with oven mitts on.
The ceramic pot and glass lid can be washed in the dishwasher or in hot soapy water.  As always do not immerse the base or cords in any water or use abrasive cleaners on any parts.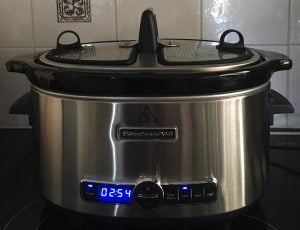 A great feature I've never had on other cookers is the integrated cord storage on the Artisan.  The power cord stores neatly under the base of the cooker for safe storage and space conservation.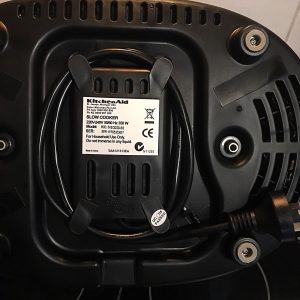 The cooker features a large, easy to read LCD digital display.
Setting options include LOW, MEDIUM, HIGH, KEEP WARM.  Not many slow cookers feature a medium option so it's great to have that versatility also.
You can simply turn it ON and it will run for up to 24hrs before turning itself off, or you can programme a cooking time up to 24hrs in 30 minute increments, after which it will then default to keep warm for up to 4hrs.  Great for easy meal planning, day or night!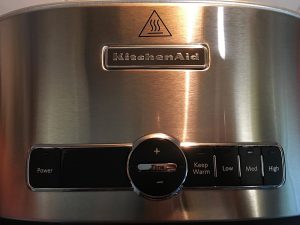 Now let's talk about that LID!  It's the only one of its sort and I admit, I like it 🙂  The KitchenAid Artisan features an innovative dual hinged lid design, allowing easy serving options with less heat loss.  Or even just single handed serving without needing to hold the lid.  Each lid has its own locking and unlocking mechanism to keep it securely closed when not in use.  The main lid can also be lifted as a whole and its handle is large for easy lifting.  The lid also features rubber seals that can be removed for easy cleaning (they should also be removed if placing the lid in the dishwasher).  Our TeaTowel trick still works perfectly with this lid design
Special mention to KitchenAid specifically reminding folk NOT to slow cook frozen meat in their user manual .. as we detail here and remind everyone daily >> (Never slow cook from frozen blog article)
Lots of other great safety and user tips included
In testing this unit I found it to cook to reliable and standard slow cooker times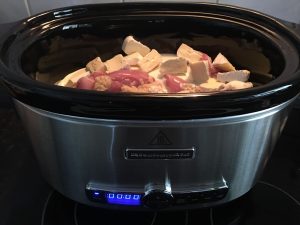 The KitchenAid Artisan Slow Cooker comes with the peace of mind of a 2yr warranty in domestic kitchens
RRP is $259 AUD
Stockists KitchenAid.com.au and select retailers
The only thing left for me to decide is … what KitchenAid appliance should I add to my kitchen next!
This is my first one and I admit … I'm impressed!
If you own or use this model we'd love to hear your thoughts/reviews on it too
You can leave a comment below 🙂
Happy Slow Cooking!