Submitted by Brooke Frith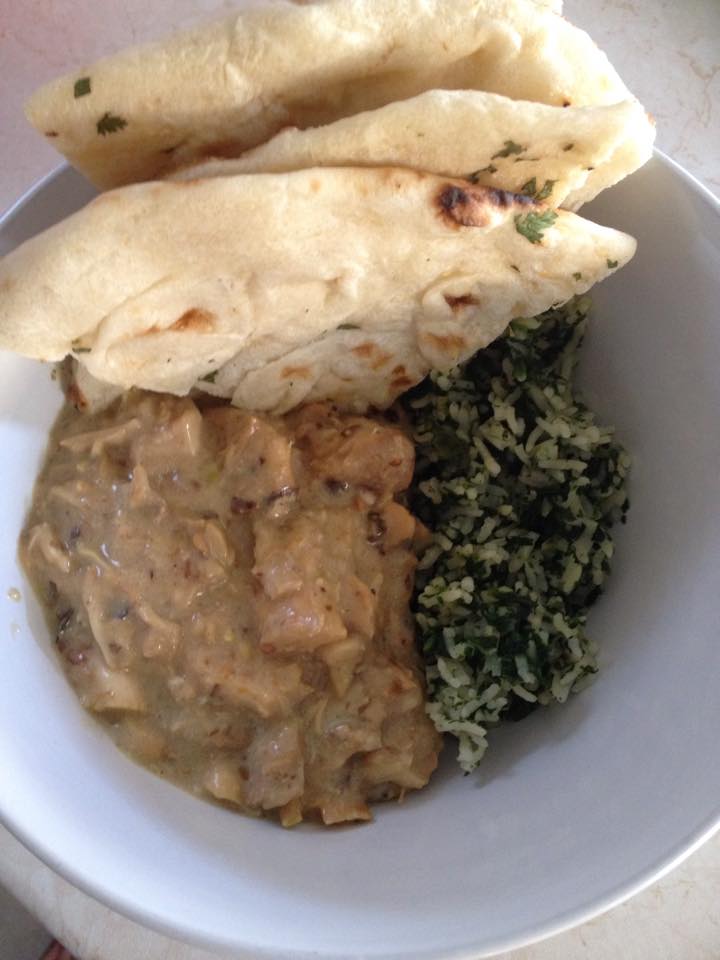 Kashmiri Inspired Chicken
Ingredients
500g chicken thigh

6 cardamom pods

1/2 teaspoon coriander seeds

1/2 teaspoon cumin seeds

1 cinnamon stick

6 cloves

100g blanched almonds

100g pistachios

1tablespoon ghee

1 onion

4 garlic cloves

1 tablespoon minced ginger

1/4 cup chicken stock

1 cup plain yoghurt (Greek or natural)

1/2 teaspoon saffron threads

Optional according to taste, for serving

Naan Bread, Rice, Spinach
Instructions
Dry pan fry cardamom, coriander,cumin, cinnamon stick and cloves. Fry until aromatic. Place in mortar and pestle all except cinnamon, put cinnamon aside. Grind all spices and remove cardamom husks just crush seeds. Place all spices into bottom of slow cooker with cinnamon stick. I put the slow cooker on high while these sit on the bottom.

Then in same fry pan melt gee and fry onion garlic and ginger. Then add to slow cooker.

Crush nuts in mortar and pestle and then add to slow cooker.

Dice up chicken thigh and then add to slow cooker with chicken stock and saffron threads.

then turn slow cooker to low setting and cook on low for 8hrs.

Remove cinnamon stick and

Stir through yoghurt 20 minutes prior to serving.

Serve with rice, naan bread etc.

I serve mine with Naan Bread and Spinach Rice. Which is just Basmati rice mixed with spinach. (Can use Silverbeet, baby spinach or frozen spinach)

Just cook rice and spinach and mix together.