Submitted by Siobhan Volkanovski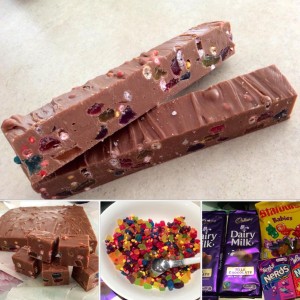 Jelly & Nerd Fudge
Ingredients
440g milk chocolate

I can of condensed milk

1 tablespoon butter

1 packet of jelly babies

2 packets of Nerds
Instructions
Please condensed milk, chocolate and button in slow cooker on high.

Stir every 10-15mins scrapping down the sides of the fudge from your slow cooker.

Once your fudge base is cooked add nerds and chopped up jelly babies and mix well.

Line your container with baking paper and pour your fudge in.

Place in fridge to set over night.