A fresh tasting fish dish
Submitted by Karen Stuckings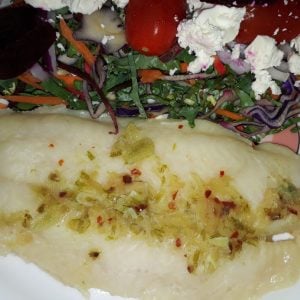 Japanese style fish fillets
A fresh tasting fish dish
Ingredients
4 fish fillets

Juice and grated rind of 1 lime

1 chopped garlic clove

2 cms grated ginger

1/4 teaspoon dried chilli flakes hot

1/2 tablespoon cooking sake

1/2 tablespoon mirin
Instructions
Place fish fillets into slow cooker tucking tail under so thickness is consistent.

Place rest of ingredients in a small bowl and mix.

Spread evenly over fillets.

Cook for 1 hour high or until cooked.
Notes
The ginger and chilli give it a kick so if don't like that I would cut back on them.

Cooking time can vary depending on thickness of fish and slow cooker.

Cooked in Breville 7L.