Submitted by Nicolina Naylor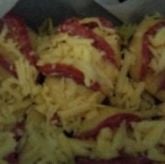 Italian Style Hasslebacks
Ingredients
6 Potatoes

1 tsp Garlic Powder

1 cup grated matured cheese

1 tblsp Grated fine Parmesan

18 slices Pepperoni
Instructions
Make 3 slits in each potato. Place a slice of pepperoni in each. Line slow cooker non stick baking paper. Place potatoes in cooker. Now sprinkle garlic salt followed by Parmesan then grated cheese.

2.5 hrs Low

variations: chicken salt, parsley or even chilli flakes.

If your potatoes are bigger make more slits but don't cut all the way thru.