Submitted by laura julian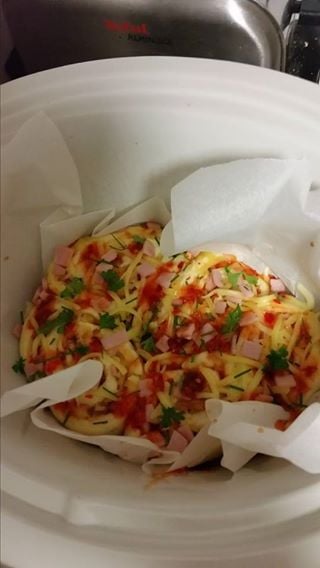 Italian herbs & cheese bread topped with sweet chilli, onion & bacon.
Ingredients
2 cups warm whole milk

1/2 cup olive oil

1 teaspoon sugar

1 teaspoon salt

4 cups of plain flour (plus 1/2 cup extra)

1/2 heaped teaspoon baking powder

1/2 teaspoon bicarb soda

1/4 teaspoon Italian herbs

1/2 teaspoon garlic powder

7g yeast

For the filling

sweet chilli sauce

grated cheese

onion diced (raw)

bacon diced (cooked)

chives & parsley

salt n pepper to taste
Instructions
Step 1
Mix the milk, olive oil, and sugar in a large mixing bowl.

sprinkle in the yeast (don't mix)

let this sit for 10 minutes then add 4 cups of plain flour (sifted)

now stir the mixture together. cover and set aside. let this rise for at least an hour.
step 2
After rising for at least an hour add 1/2 more cup of flour, the baking powder, bicarb soda, salt, 1/4 teaspoon Italian herbs and 1/2 teaspoon of garlic powder. knead the dough for a couple of minutes.
step 3
Roll the dough out on a lightly floured surface into a large rectangle about 1/4 inch thick. ( you will need to cut the dough in half as there is lots)

Spread the sweet chilli sauce all over with a spoon and then add the grated cheese, onion and cooked bacon. Add some chopped chives, salt and pepper to taste.
Step 4
Roll the dough up like a swiss Roll and with a sharp knife cut into strips. place in a preheated sc with baking paper for 2 hours on high. put the rest of the cheese bacon and onion on top and drizzle some more sweet chilli sauce, scatter some parsley over.