Submitted by Becky Audsley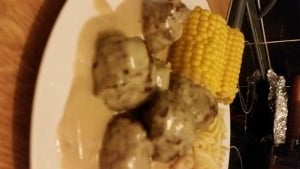 *IKEA STYLE* Meatballs and Creamy Gravy
Ingredients
Pork Meatballs - (Ready cooked can be purchased, the swedish variety work best! Or raw meatballs browned ready to go into crockpot)

1 dessert spoon Soy Sauce

300ml Good quality beef stock, heated up (season to taste by adding gravy granules if preffered)

1 heaped dessertspoon Plain Flour

1 heaped dessertspoon Butter

150ml Double Cream
Instructions
For the sauce -

Make a roux by melting the butter in a non stick pan, then add the flour. Stir into a paste and fry off for a minute. Remove from the heat and leave to cool slightly. Gradually add the 300ml of beef stock and whisk until its a lovely thick consistency. Add either pre cooked Pork balls or your own (Making sure to brown first)

Stir into the sauce and add it all to the crockpot. Add the cream and soy sauce and season with pepper. No salt is nessecary depending on the saltiness of the stock, taste to check.

Leave on low for 3 hours or high for 2. Its just the most delicious Sauce, and perfect served with Slow Cooked Hassleback Potatoes!