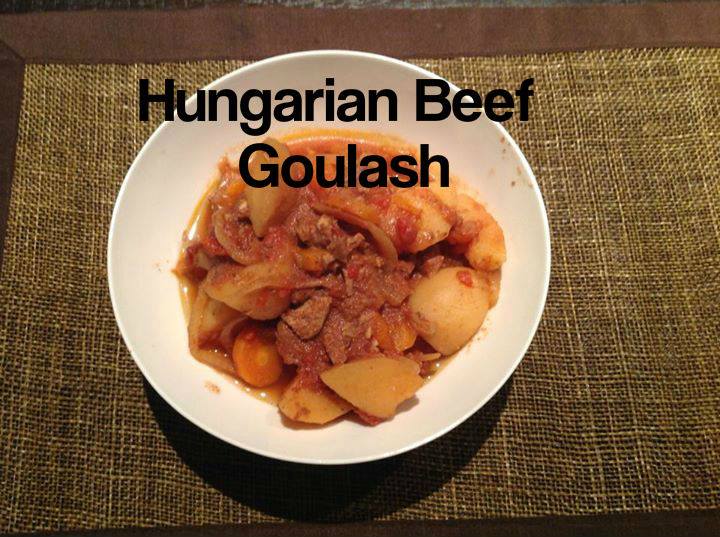 Hungarian Beef Goulash
Ingredients
900g beef chuck steak

2 tbsp. sweet paprika

2 tsp. caraway seeds

Salt and pepper

2 medium onions

2 x medium potatoes

1 red pepper

3 garlic cloves

1 tsp. Worcestershire sauce

2 bay leaves

Small handful freshly chopped parsley

1 tbsp. corn starch mixed with 2 tbsp. water

400ml beef stock

1 x 400g tin chopped tomatoes
Instructions
Mince the garlic cloves. Slice the onions into half-moons. Slice the pepper in half, remove the seeds and pith and dice the flesh. Dice the beef steak.

Put the beef in the bottom of a slow cooker.

Crush the caraway seeds in a pestle and mortar or spice grinder. Sprinkle over the beef along with the paprika. Toss to coat.

Top the beef with the sliced onions and diced pepper.

Combine the chopped tomatoes, minced garlic cloves, Worcestershire sauce and beef stock in a large saucepan. Bring to a simmer and season well with salt and pepper.

Pour the tomato sauce over the beef and vegetables and place the bay leaves on top.

Cover and cook on low for 7-8 hours until the beef is soft and tender.

Remove the bay leaves and stir in the parsley and corn starch mixture.

Cook for 10-15 minutes until the sauce is thickened and then serve immediately.