I love honey mustard chicken, and my kids love meatballs … so I decided to combine the two!
We serve ours with sweet potato mash and steamed veg but it would also be nice with rice or potato mash
Submitted by Paulene Christie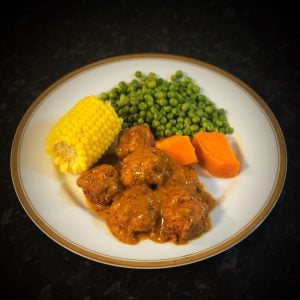 Honey Mustard Chicken Meatballs
I love honey mustard chicken, and my kids love meatballs … so I decided to combine the two! We serve ours with sweet potato mash and steamed veg but it would also be nice with rice or potato mash
Ingredients
Meatballs
1kg chicken mince

1 tsp garlic powder

1 tsp onion powder

½ tsp salt

1/3 cup panko crumbs

½ cup shredded parmesan cheese

2T vegetable oil

1 egg
Sauce
¼ cup honey

½ cup Dijon mustard

1Tbsp wholegrain mustard

1Tbsp chicken stock powder

1 cup warm water

1Tbsp mayonnaise

½ tsp tarragon dried

Additional: 2tsp corn flour with 2Tbsp water
Instructions
Combine all meatball ingredients in a large bowl and mix well. Using clean hands roll mince mix into golf ball sized meatballs. Place them gently in slow cooker, slightly apart

Combine all sauce ingredients (except corn flour slurry) and pour over meatballs

Cook on low with tea towel trick in place for 3hrs.

IMPORTANT: Do not stir or move meatballs until the final 30mins. When they are fully sealed and firm they can be moved. Moving them earlier could result in them breaking. Instead only flip them gently in the last half hour and that's all they need 🙂

Stir through the corn flour slurry and cook for a further 5mins to thicken. Toss meatballs gently through this thickened sauce to coat.