Submitted by Kim Saunders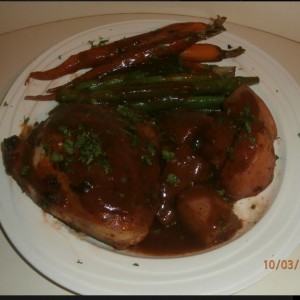 Honey Garlic Chicken and Veges
Ingredients
8 bone-in, skin-on chicken thighs

16 ounces baby red potatoes, halved

16 ounces baby carrots

16 ounces green beans

2 tbsp chopped fresh parsley leaves
Sauce
1/2 c soy sauce

1/2 c honey (runny)

1/4 c tomato sauce

2 cloves garlic, minced

1 tsp dried basil

1/2 tsp dried oregano

1/4 tsp crushed red pepper flakes(optional)

1/4 tsp ground black pepper
Instructions
In a large bowl, combine soy sauce, honey, ketchup, garlic, basil, oregano, red pepper flakes and pepper.

Place chicken thighs, potatoes, carrots and soy sauce mixture into a slow cooker.

Cover and cook on low heat for 7-8 hours or high for 3-4 hours, basting every hour. .

Add green beans during the last 30 minutes of cooking time.

Optional you can grill this for 3-4 minutes skin side up.

Also I thickened the sauce with cornflour- this is delish.

Garnish with parsley if desired.