Submitted by Frankie Raines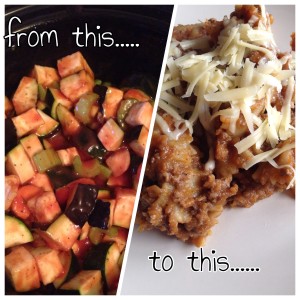 (Hidden Veg) Pasta Bolognese
Ingredients
2 carrots

2 garlic cloves

2 sticks of celery

1 aubergine (eggplant)

1 courgette (zucchini)

1 onion

200ml beef stock with a splash of red wine

1 tsp dried mixed herbs

1 tin of passata

500g minced beef

250g dried pasta
Instructions
Roughly chop carrots,celery sticks,garlic cloves, aubergine, courgette and onion.

(I used about 200ml of boiling water to melt 1 Knorr beef stock melt, 1 oxo red wine and rosemary flavour herbs&more) but if you can't get these then normal beef stock with a splash of red wine should do the trick!

Add the dried mixed herbs.

Put all that in your slow cooker with the passata, mix well and cook on low for 5 hours.

I then used a hand blender to whiz all that up.

Brown off the beef mince and add that to the sauce (draining excess liquid before adding to the pot) and put in 250g dried pasta, mix well and cooked on high for an hour.

Serve with grated cheese.