Submitted by Felicity Barnett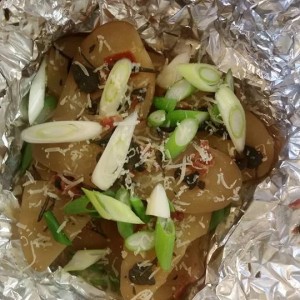 Herbie Pancetta Potato Parcels
Ingredients
50g Pancetta (can use bacon or prosciutto instead), diced

4 Cloves Garlic, minced

4 Potatoes, sliced (1.5cm thick)

1 tsp Thyme

1 tspn Oregano

1 tspn Rosemary

2 Spring Onions,

sliced Parmesan cheese (Optional)
Instructions
Stack one potato on alfoil and scatter with quarter prosciutto, garlic and herbs.

Securely wrap in foil.

Repeat with remaining potatoes.

Place in slow cooker bowl with about 2cm of water.

Cook on low for 6-7hrs ( Contempo 5.5L sc)

Remove from slow cooker and carefully open, beware of escaping steam.

Top with spring onions and freshly grated Parmesan.

Serve immediately.