Submitted by Christy Roth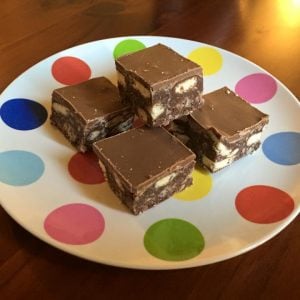 Hedgehog Slice
Ingredients
Slice
225g biscuits (I used family assorted)

2 tbsp cocoa

1/2 cup white choc melts

3/4 cup milk choc melts

1/2 cup dessicated coconut

90g butter

1 tin condensed milk
Topping
1/2 cup white choc melts

1 cup milk choc melts

1 tbsp vegetable oil
Instructions
Melt chocolate, condensed milk and butter together on high for 30 minutes until well combined, stirring every 5-10 minutes.

Whilst melting, place biscuits in a bag and hit with a rolling pin or the heavy end of a knife until biscuits are in pieces, but not too crushed up.

Once chocolate mix is all melted, add biscuits, coconut and cocoa and mix through quickly and thoroughly before spooning into a lined baking tray.

Put in the fridge.

While slice is cooling in the fridge, melt chocolate on high for 15 minutes, stirring every 5 minutes then turn off. Allow to cool for 5 minutes then stir in the vegetable oil.

Remove slice from fridge and pour the choc oil mix over, ensuring the whole top is covered. Place in fridge and refrigerate overnight before slicing into pieces in the morning.