My hock soup is full of flavour with no fuss, great served with hot crusty rolls 🙂
Submitted by Merinda Haydon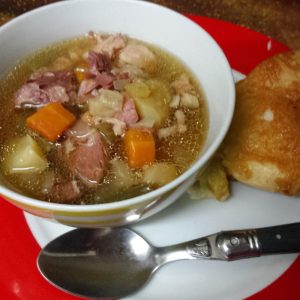 Hearty Hock Soup
My hock soup is full of flavour with no fuss, great served with hot crusty rolls 🙂
Ingredients
3 ham hocks

2 onions

1L carton chicken stock liquid

6 potatoes

2 large carrots

3 sticks celery

a handful of fresh beans

1 large swede

water
Instructions
Chop the onions and place into the slow cooker ,add the hocks and chicken stock.

Cook on high for a few hours until the meat is falling off the bones.

Take out the hocks and remove meat from the bone (i use 2 forks), then chop the meat and return it to the slow cooker.

Chop the veges into bite size pieces and add to slow cooker

Top with water to desired taste, cook on low for about 2 more hours but can go for longer.