Submitted by Kelly Ryan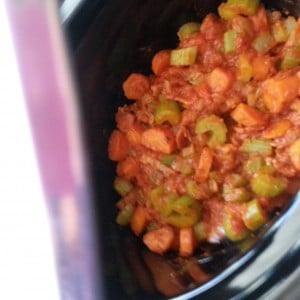 Healthy Bowl of Pork and Pearl Barley
Ingredients
1 1/2 cups of pearl barley

900g pork tenderloin (2 x Aldi serves), sliced 1.5 cm thick

4 Carrots, diced

" equal amount of celery, diced

2 onions, diced

50g ham, diced

1 jar red pasta sauce

wholemeal flour

4 cloves

thyme
Instructions
Turn slow cooker on HIGH to pre-heat

With a splash of oil, fry off carrot, celery and onion in a fry pan to speed up the cooking process.

Meanwhile, coat pork pieces in flour and place into the bottom of the slow cooker.

As veg starts to soften and onions become clear, add cloves and thyme, and cook for another minute or 2.

Pour in jar of red pasta sauce, plus the same amount of water and stir.

Pour veg over the pork and cook for 1 hour on high, then turn to low for another 1 hour.

Add pearl barley and stir through, keeping as everything covered with liquid.

(it will seem watery at this stage but the pearl barley will absorb most of the liquid)

Continue to cook on low for another hour.

Serve as is for a very healthy dinner or tomorrow's lunch.