Submitted by Alyssa Green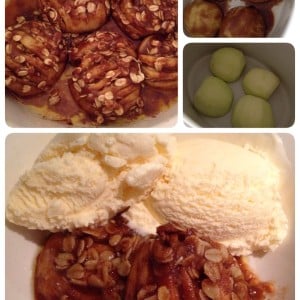 Hassellback Apples
Ingredients
2 large apples (Granny Smith)

4 tablespoons brown sugar

2 1/2 teaspoons butter

1 1/2 teaspoons cinnamon

2 tablespoons oats (old school traditional ones)

1 teaspoon flour

1/4 teaspoon salt
Instructions
Preheat your slow cooker on HIGH and spray base with cooking oil.

Peel and core your apples and cut into half vertically.

Mix in a bowl, 1 tablespoon brown sugar, 1 tablespoon of melted butter and 1/2 teaspoon of cinnamon.

Place apples in slow cooker, cut side facing down.

Using a pastry brush, brush apples with butter mixture.

Put a tea towel under the lid and cook on HIGH for approximately 1 1/2 hours, until just soft.

Combine in bowl, 3 tablespoons brown sugar, 1 teaspoon cinnamon, 1 teaspoon flour, 1 1/2 tablespoons melted butter, 2 tablespoons oats and 1/2 teaspoon salt.

Take Apple halves out of slow cooker and fan slice apples making sure you don't cut through. Fan and place mixture into slices.

Put apples back in the slow cooker and cook for a further 1 hour on HIGH.

Serve with Ice Cream and enjoy!