Submitted by Shannon Siebel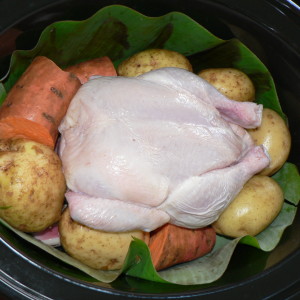 Hangi / Oomu
Ingredients
Banana stem & leaves (can use cellery stalks instead)

Chicken/Pork/Beef

Pumpkin

Sweet Potato

Potato

Cabbage
Instructions
Hangi or Oomu traditional Maori/Islander cooking in ground.

Inspired by the post a couple of weeks back with the hangi parcels in alfoil.

I tried this in a 6L cooker, young banana trunks (you could use celery instead) to keep everything out of the juices, layer up the meat and vege's.

I didn't have any pork so put bacon on the top to add the flavour, banana leaves around the edges and on top.

Just 1/4 cup of water in the bottom, on low about 8 hours.

Lots of juice which I strained and turned into gravy.

It was very close to a proper hangi flavour yum.

Someone mentioned using smoke essence in the last hangi post which might be a good idea.

So much easier than digging a hole in the ground and heating up rocks!!