Easy and stress free
Submitted by Ashley and Karen Stuckings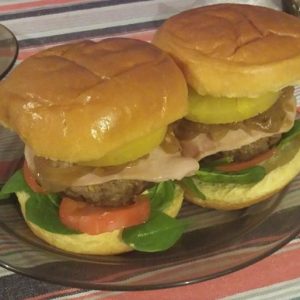 Hamburgers
Easy and stress free
Ingredients
500 grams of beef mince (see notes)

1/2 tablespoon crushed garlic (optional)

1 tablespoon Italian mixed herbs (or herbs of your choice)

ground black pepper

4 slices short cut bacon

4 pineapple slices

1 sliced onion

4 eggs (cooked in silicone moulds)

grated cheese (of your choice)

To serve

4 buns

sauce of your choice

fillings of your choice
Instructions
In a bowl mix mince, garlic, herbs and pepper well

Divide and shape into 4 paddies

Refrigerate if possible for at least 2 hours

Place paddies in slow cooker and cook for 1 hour on high

Remove fat/oil and turn

Add bacon to each paddy along with onion and cook 1/2 hour on high

Add pineapple

Place silicone moulds into slow cooker and place one egg in each

Sprinkle grated cheese on top of egg

Cook 1/2 hour on high or until egg cooked

Assemble hamburgers to your liking
Notes
Your hands heat the mince when your making them, refrigerating the made paddies helps cool mince again and makes them less likely to fall apart.

You can change to beef & chorizo by removing skins of two chorizos and mincing, I used a stick blender. Work the chorizo mince into your beef mince.

You can change the poached egg to a omelette, which is my kids favourite way, by whipping eggs and adding a splash of milk.

You can put cheese on the paddies instead but putting on the egg allows you to be able to put silicone mould on top of paddy if need to.

Cooked in Breville 7L, can be cooked in other slow cookers but times might vary.