Submitted by Paulene Christie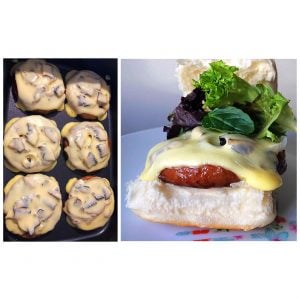 Hamburger Helpers
Ingredients
6 hamburger patties (fresh raw flat ones approx. the size of your palm from the butcher department of your grocery store. Another option is to flatten down some ready made rissoles)

½ - 1 small onion, sliced

3 large mushrooms, sliced

6T Smoky BBQ sauce

6 cheese slices

To serve: Burger rolls and green salad leaves
Instructions
Using a non stick slow cooker (or baking paper on a ceramic bowl) lay down the 6 raw burger patties

Top each with a spoon of sauce and then the onion and mushroom slices

Cook on HIGH for 2hrs with tea towel trick in place (make sure that in your cooker the meat is cooked through in this time)

Top each one with a slice of cheese and cook for additional 15mins to melt cheese

Using an egg flip carefully lift each topped burger pattie (it all stays together thanks to the cheese) and place it on a hamburger roll.

Top with salad leaves and serve!
Notes
Great to wrap for lunches, picnics or even easy meals at sports games

Easy to adapt toppings, eg we leave mushrooms out of our kids ones but add extra on ours!