Hearty Ham and Pea Soup
Submitted by Valerie Gibbons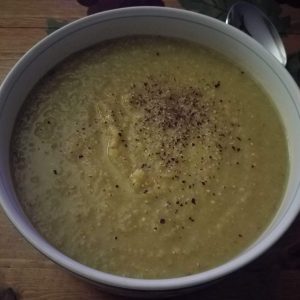 Ham and Pea Soup
Hearty Ham and Pea Soup
Ingredients
7 cups water

1 ham bone

2 cups potatoes

2 cups carrots

1 cup onions

1 cup celery

1 cup ham

1 pound split peas (green)

herb and garlic seasoning

pepper
Instructions
Place water, bone and seasoning in crockpot on LOW overnight.

In morning, remove bone, set aside.

Chop vegetables, split peas and ham into small pieces and add to water.

Remove any remaining meat from bone and add to pot.

Season to taste.

Cook on LOW for 8-9 hours.

Take hand blender or a conventional blender to puree to consistency of your choice.

Enjoy.