Submitted by Holly Boyall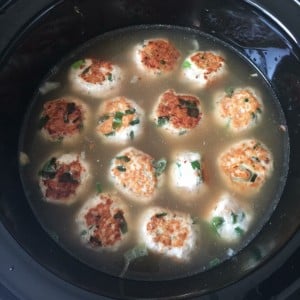 Greek Chicken Meatballs in Lemon Soup
Ingredients
3 eggs

500g chicken mince

1 tsp oregano

1 tsp parsley

1 tbs minced garlic

2 spring onions chopped

1 brown onion diced

1/2 cup bread crumbs

1 tbs oil

4 cups chicken stock

1/2 cup water

1/4 cup of lemon juice

75g spaghetti
Instructions
- Combine 1 egg (whisked), mince, oregano, parsley, spring onions, bread crumbs, half the garlic.

- Using mixture, make meatballs the size of a golf ball.

- Heat half the oil in a frypan, put in meatballs turning until brown.

- Meanwhile, put stock and water into slow cooker. Add meatballs once browned.

- Using the same frypan meatballs were cooked in, add remaining oil, remaining garlic and brown onion. Cook until onion starts to soften. Add to slow cooker.

- Cook for 3.5 hours on high.

- Break spaghetti lengths into thirds, add to slow cooker and cook for a further 40mins.

- Whisk remaining eggs and lemon juice in a separate bowl until well combined.

- Slowly add one cup of hot stock mixture from slow cooker to bowl with egg and lemon juice mixture. Continue to whisk until combined. Slowly add to slow cooker while stirring.

- Serve with lemon wedges.