A garlicky, creamy and rich potato bake by the best chef I ever had the privilege of learning from my Granddad
Submitted by Catherine McHaffie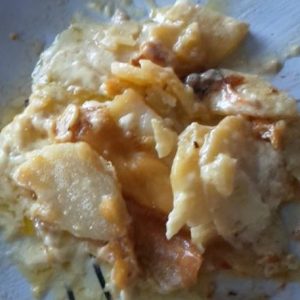 Granddad's pomme de terres dauphinnoise
A garlicky, creamy and rich potato bake by the best chef I ever had the privilege of learning from my Granddad
Ingredients
3 large baking potatoes, peeled and sliced very thinly (either by hand or in a food processor)

500ml bottle of double or cooking cream

4-6 cloves garlic, peeled and crushed (you could use crushed garlic from a jar also)

approx 1/4 C butter, cut into tiny cubes about half the size of your fingertip

3/4C grated cheese (I use a good quality cheddar)
Instructions
1. Grease your slow cooker with either canola spray, or a bit of butter.

2. layer as follows: 1 layer potatoes (slightly overlapping), dollop cubes of butter intermittently over the potato layer, do the same with the garlic, pour over the cream so it covers the layer. Then repeat. You should get 3-4 layers out of this process.

3. Once all layered up, grate your cheese and sprinkle over the dauphinnoise to cover it.

4. Cook with a tea towel under the lid, on low for 6 hours or until a spreading knife goes all the way through the layers with no resistance

5. If your sc insert is oven-proof you may wish to grill the bake to brown up the cheese, this would naturally happen if the recipe was done in the oven. But this is completely optional.