This is no ordinary hot dog!!
Check it out 🙂
Submitted by-Tanya Sinclair-Cox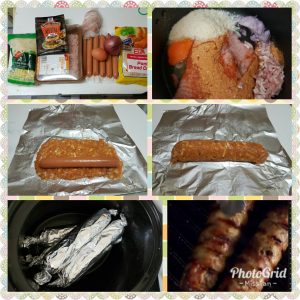 Gourmet Hot Dogs
This is no ordinary hot dog!! Check it out 🙂
Ingredients
6 Hot Dogs (you can make these minus the Hot Dogs)

500g Chicken Mince

1/4 Lge Red Onion finely diced

1 Egg

1 Rasher Bacon finely diced

1 Pk McCormick Burger Seasoning (found in Spices aisle)

3/4 Cup of Panko Crumbs (or breadcrumbs)

3/4 Cup Finely Grated Cheese

Aluminium Foil

Cooking Spray
Instructions
-Set Hot Dogs aside

-Mix mince, onion, egg, bacon, seasoning, panko crumbs, cheese

-Lay Al Foil down, give a light spray with cooking spray.

if using your hands give them a little spray too as mix can stick to your fingers

-Use approx 1/2-3/4 cup of mix and press into a rectangle shape as thin as you can

-Place your hot dog at the edge and use Alfoil to roll the mince mix around it

-Once you have rolled it up, pierce the bottom of al foil as this lets any liquid or fat drain out

-I put egg rings on the bottom so they arent touching base of SCer and cook on low for about 3hrs or high for 1.5
Notes
We serve in hot dog buns with either a coleslaw on top or a side salad.  Grandkids just have them by themselves, no bun & salad on the side

You can use beef or pork mince and if you dont like hotdogs then just leave them out and roll into a mini hot dog shape.

I found a recipe online for something similar so I just chose different ingredients, added a few, took out a few and came up with this yummy dish.