Submitted by Gail Burge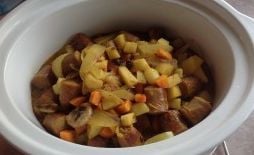 Good Old Fashioned Sweet Curried Sausages
Ingredients
12 Thin Beef Sausages

1 Brown Onion Sliced

1 Large Carrot diced (1 cm cubes)

2 Potato's peeled and diced

1 Tablespoon oil for frying

3 Tablespoons Curry Powder

1 Tablespoon Red Jam (any kind)

1 Tablespoon Chutney or Tomato Relish

1 Large Peeled and diced Apple

1 sliced Banana

1/4 Cup of Sultanas

500ml Hot Water
Instructions
Add oil to a small frypan and lightly fry off sausages just to seal

Remove sausages from pan and cut into 1" pieces, set aside

Add onion, carrots and potato's to the hot pan.

Fry off for 2-3 minutes.

Add curry powder and stir through.

When fragrant add Apple, Banana, Jam and Relish.

Mix through thoroughly

Add Hot water.

Return Sausages to pan for 2-3 minutes

Now place all ingredients in your slow cooker

Cook on High for 4hrs or low for 6-8

Serve with Jasmine Rice or Mashed Potato's

Note: all ingredients can be added directly to the slow cooker but by doing it in

The pan first there is a better flavour infusion.