Submitted by Robyn Clark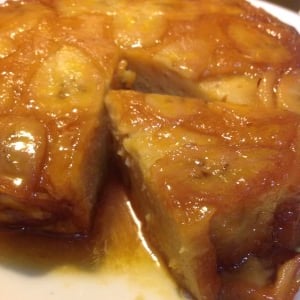 Golden Banana Upside Down Cake
Ingredients
Cake
1 Mashed banana

1/3 cup vegetable oil

1/4 cup sugar

3 Tablespoons Golden syrup ( or maple syrup )

2 beaten eggs

1/2 cup thick vanilla custard ( I used carton custard)

2 teaspoons baking powder

1/2 teaspoon salt

1 1/4 cup plain flour
Upside Down Topping
4 Tablespoons butter

1/4 cup brown sugar

1/4 Cup golden syrup ( or maple syrup)

2 1/2 sliced bananas
Instructions
Cooked in a round 5.5 L SC.

Line and grease desired cake pan.( I used round)

To make the topping , melt the butter , brown sugar and golden syrup ( or maple syrup ) together.

Spread evenly in the cake pan . Slice the bananas and place layered over the sauce in a circular pattern.

In a large bowl mix together the mashed banana , oil , egg , custard , sugar and syrup. Stir in baking powder , salt and flour and mix until no lumps.

Pour mixture over the caramel , banana topping and spread out evenly.

Raise up on egg rings or foil balls in your SC and cook on high approx 2 hours, tea towel under the lid . Cake is cooked when a skewer comes out clean . The topping will bubble up over the cake and settle again as it cools. Allow to cool in the tin for approx 20 mins and then turn out onto a serving plate. Best served warm with custard , cream or vanilla IceCream.