Submitted by Emma Taylor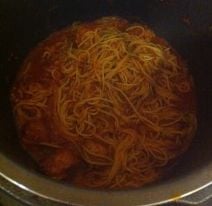 Garlic Parmesan Pork Meatballs
Ingredients
Meatballs:

500g pork mince

Half a cup shredded fresh Parmesan cheese

About 2 tablespoons garlic powder (or to taste)

About a teaspoon of all purpose seasoning

About 2 teaspoons of mixed herbs

Sauce

375g jar of garlic and herb tomato paste (I used Leggo's)

A generous sprinkle of garlic powder and dried basil

2 teaspoons sugar

Water
Instructions
Mix all of the meatball ingredients in a bowl with a wooden spoon, til well combined.

Take one spoonful at a time and roll into a ball. One wooden spoonful makes just the right size (about an inch wide) Chill overnight (optional). Brown in frying pan/searing slow cooker (this step helps them stay together as there's no binder like egg in the mix)

Set aside the meatballs.

In the base of the slow cooker, mix half of the tomato paste, half the garlic, half the basil, half the sugar and one cup of water.

Put the meatballs on top of this mixture in the cooker.

In the jar, mix the rest of the garlic, basil, and sugar, and fill the jar up the rest of the way with more water. Mix with a fork and pour over the top of the meatball and sauce mix.

Cook for 6 hours on low.

Serve with your preferred pasta!