Submitted by Shelleyrae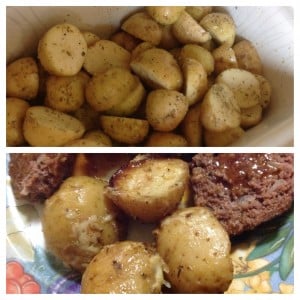 Garlic, Herb and Parmesan Potatoes
Ingredients
2kg Chat or New potatoes, halved

2-3 tbsp olive oil

2 -3 tbsp unsalted butter, melted

2-3 tbsp minced garlic

1-2 tbsp mixed herbs

salt and black pepper, to taste

1/4 cup freshly grated Parmesan

1 tbsp chopped fresh parsley leaves
Instructions
Add oil, half the butter, garlic, and herbs to slow cooker and stir.

Add halved potatoes, pour over remaining butter and season with salt and pepper

Stir til all potatoes are coated in mixture.

Cook on HIGH for 4-5 hours OR Low for 6-8 hours, stirring at least once til potatoes are softened and cooked through.

Before serving, switch slow cooker off. Sprinkle potatoes with cheese and parsley, stir to coat and allow to sit for a further 10-15 minutes.
Notes
If required, parboil or microwave potatoes for a few minutes before slow cooking to reduce overall cooking times

Potato types other than Chat or New may require longer cooking times

This recipe tested in 7l slow cooker