Submitted by Ash Brodrick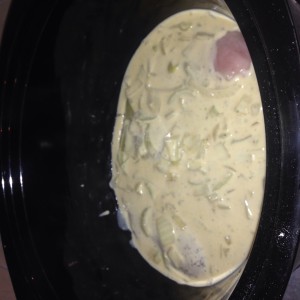 Easy peasy baby friendly chicken & mushroom pie
Ingredients
4 chicken breasts

Thyme

2 Baby stock cubes

2 tbsp flour

1 onion

1 garlic clove

Whole milk

Handful of mushrooms
Instructions
4 raw chicken breasts straight in the slow cooker with a bay leaf and dry thyme.

Slice one onion and one clove of garlic then fry until soft.

Add 2 tbsp flour off the heat then return to the heat and add 200ml baby stock cubes (I used 1 veg, 1 beef. From boots)

Stir in enough whole milk that will cover chicken and bring to the boil. Pour over chicken in slow cooker and cook on low for 4 hours.

Put in to pie dish. Add mushrooms and ready rolled puff pastry on top. Brush with milk. Cook in oven at 200-220 for 30min until pastry is cooked.