Submitted by Jaime Murphy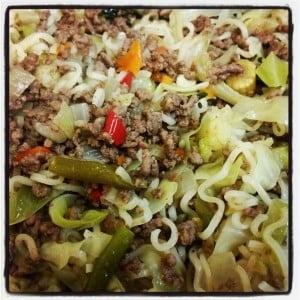 Easy Chow Mein
Ingredients
500g beef minced

1 onion, diced

250g Frozen stir fry veges

1/4 cabbage, shredded

2 pkts 2 min noodles, chicken flavour

1 tbsp mild curry powder
Instructions
Brown the mince and onion.

Put everything but the noodles in the slow cooker, including the flavour sachets from both packets of noodles.

Cook for 5 hours on low

5 minutes before serving, cook the noodles in the microwave as per instructions, drain and add to the cooker.

Mix through and serve.