Submitted by Wayne Frosch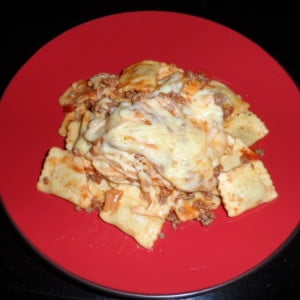 Easy Cheesy Ravioli Lasagna
Ingredients
3 x 300 grams filled ravioli (filling is your choice)

1 kg beef mince

1 x 500 gram jar Bolognese or Pasta Sauce (flavor is up to you)

1 cup water or more (if necessary)

1 x 375 gram bag grated Mozzarella Cheese
Instructions
*In a skillet brown the mince and remove at least of the excess grease.

*In your slowcooker add the mince, ravioli and sauce (not the cheese). Mix thoroughly.

*Put on low for 2 hours, stirring occasionally. If you feel it is too dry add water until you have the desired consistency.

*Roughly 20 minutes before finished pour the entire bag of cheese on top and continue cooking until melted.

Serve either by itself or with a fresh salad and some garlic bread. Bon Appetite!