Submitted by Paulene Christie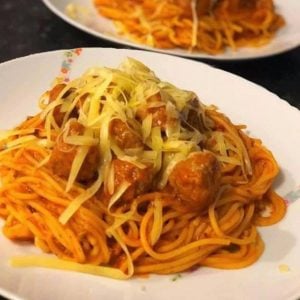 Easy Cheesy CHEATS Spaghetti Meatballs
Ingredients
24 ready made, raw meatballs

2 jars of pasta bake sauce **see notes**

500g packet of spaghetti (dry pasta)

1 cup of your favourite grated cheese (mozzarella, tasty, cheddar or pizza blend are great)
Instructions
Please note: This is a fast and easy meatballs meal intended for convenience! We have plenty of recipes here on our website for these made completely from scratch (both the meatballs and the pasta sauce). This one is ALL about convenience and to simply give everyone time guidelines for doing so 🙂
Method
Place raw meatballs into slow cooker (see notes)

Pour over pasta sauces (see notes)

Cook on low for 4hrs.

When nearing completion time cook pasta on stove top (or see notes)

Gently remove the meatballs from slow cooker and set aside on a covered plate to keep warm.

Stir through cooked pasta into the slow cooker to coat spaghetti well.

Serve this sauce coated spaghetti on your plates and return meatballs to each plate

Scatter with cheese & hey presto ... easy cheesy cheats spaghetti!
Notes
Meatballs don't need pre browning, just don't stir them in first 2-3hrs then they'll be firm after that and will stay formed perfectly and intact.

I like to use PASTA BAKE sauce rather than straight spaghetti sauce, or one jar of each, as I find the pasta bake sauce a creamier end consistency that coats the spaghetti beautifully. I use Dolmio's Pasta Bake in 'Cheesy Pizza Style' flavour but you can choose any creamy, tomato based pasta bake sauce you prefer 🙂 Or simply use regualar spaghetti sauce or passata if you wish.

You may choose cook your spaghetti IN the slow cooker but it will absorb a lot of the cooking sauces, so when I did so I added two cups of hot water at time of adding pasta then gave it 45mins for pasta to cook through. I do prefer and recommend for best results though to use the pre cooked on the stove pasta though for the best saucy spaghetti meatballs 🙂