Submitted by Natasha MacDonald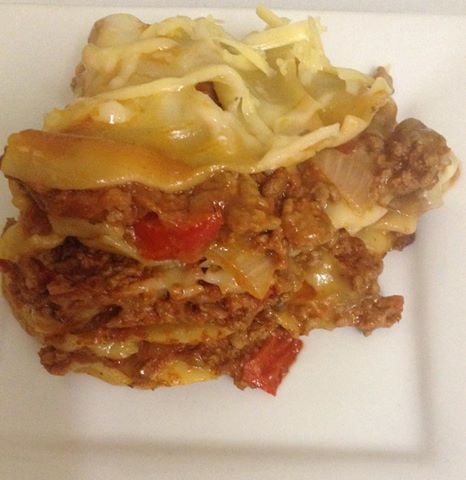 Easy Cheats Lasagna
Ingredients
1kg of beef mince meat

1 teaspoon of olive oil

1 Jar Of Dolmio's bechamel sauce

1 Jar Of Dolmio's Lasagne tomato sauce.

2 table spoons of tomato paste

Cracked pepper

Garlic Salt

1 teaspoon of sugar

2 Cloves of Garlic crushed

1 Onion chopped

1 Red Capsicum chopped

Packet of dried pasta sheets

Cup of Grated cheese.
Instructions
On the stove top in a large frying pan add in a little olive oil and brown the mince, onion, red capsicum together.

Add in the garlic, garlic salt, cracked pepper & tomato paste until the meat is covered by the paste.

Then add in the jar of Lasagne tomato sauce, sugar and stir until combined.

Line the slow cooker with either cooking spray or butter to prevent from sticking.

*Important* the first layer to be the mince meat.

Brake up the pasta sheets to fit within bowl and cover the top or the mince meat. (overlap if you have to)

Add few dollops of the Bechamel sauce across the pasta sheets.

Repeat until the top.

On the top layer with the pasta sheets and Bechamel sauce.

Place on high for 4 hours with a tea towel/dish cloth under the lid.

Just before serving sprinkle the top with grated cheese.