Submitted by Denise Roberts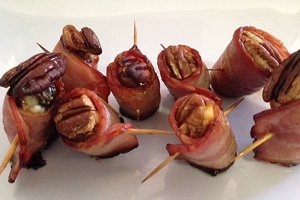 Devils on Horseback with Goats Cheese
Ingredients
20 Pitted Dates

1/4 Cup Goats Cheese

20 Pecans

10 Slices Bacon (cut in half)

1/2 Cup Balsamic Vinegar

1 Tablespoon White Sugar
Instructions
Stuff each date with about 1/2 teaspoon goats cheese. Top each date with a pecan, using the goats cheese to hold the pecans in place. Wrap each date with 1/2 slice bacon.

Place into slow cooker and cook on low for 1 hr.

Remove from slow cooker and place on oven tray (covered in non stick baking paper) and place in HOT oven for 5 mins to brown.

In a saucepan over medium heat, mix the balsamic vinegar and sugar until thickened.

Remove dates from oven and pour sauce over the dates and serve to your hungry guests.