Submitted by Renee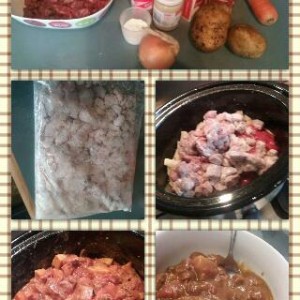 Delicious Beef Stew
Ingredients
800g blade steak, cut into cubes

1/2-1C wholemeal flour

2x400g tin of diced tomatoes

2 tbsp tomato paste (salt reduced)

1.5 TBSP paprika

1 tsp salt

1 tsp pepper

1 sweet potato, peeled and cut into chunks

2 tbsp olive oil

1 brown onion, diced

2 cloves/2tsp of garlic, crushed

1 carrot, diced

1cup salt reduced beef stock
Instructions
1. Place the flour and steak cubes into a large ziplock bag. Zip closed and shake around for a minute or so to really coat the beef with flour. Set aside

2.Combine tin tomatoes, tomato paste, paprika, salt and pepper into slow cooker bowl.

3. Add potato to slow cooker, stir to combine.

4.Heat the olive oil over medium heat.

5.When hot, add onion and garlic to the pan. Cook, stirring, till heated through and starting to turn transparent.

6. Add the diced carrot and stir to combine.

7. Cook for a couple of minutes till carrot has softened then transfer to the slow cooker bowl.

8.Pour beef stock into the hot pan and bring to the boil. Reduce the heat and allow to simmer for a couple of minutes to de-glaze the pan.

9. Pour stock into the slow cooker. Add floured meat. Stir to ensure everything is well combined.

10. Place lid on cooker. Cook on High for 2 hours then low for 4 hours OR low for 8 hours OR high for 4-5 hours. I prefer mix temp method.

Serve as is or with wholemeal toast or cooked brown rice.