A rich and salty dark broth ramen inspired by traditional Japanese ramen.
Submitted by Sharni Lions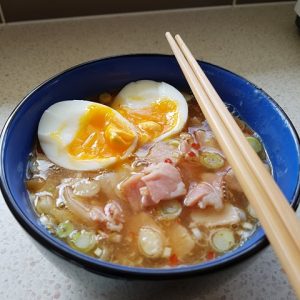 Dark Broth Ramen
A rich and salty dark broth ramen inspired by traditional Japanese ramen.
Ingredients
4 middle bacon rashers chopped

1 inch piece ginger sliced

3 garlic cloves sliced

1 tablespoon minced lemongrass

1 tablespoon white miso paste

red pepper flakes

4 cups chicken stock reduced salt (avoid using hot stock)

2 tablespoons light sodium soy sauce

1/2 tablespoon balsamic vinegar

1/2 tablespoon rice wine vinegar

2 teaspoons sesame oil

spring onion (2 garnish)

Eggs (refer to notes)

Noodles (refer to notes)
Instructions
Fry bacon and remove half for later use.

Add ginger, garlic and lemongrass. Saute approx. 1 min.

Add miso paste and red pepper flakes to taste (it only needs a little for flavour). Mix thoroughly and combine.

Slow cook 2 hours on low.

Remove bacon, ginger and garlic.

Add soy sauce, both vinegar, and sesame oil.

Slow cook 30 mins on low.

Add a little spring onion last 10 mins to infuse flavour to leave to garnish. In last 10 mins also add the bacon previously put aside to heat through. Pour broth over cooked noodles and top with egg and spring onion.

— Notes

1 egg per person is best.

2 minute noodles work fantastic. For a more noodly ramen 1 packet per person or 1 packet between 2 people.

Lemongrass in produce fridge section.

Some items in asian grocery aisle at woolworths and coles if you have difficulty finding them.

Try to source salt reduced products where possible. As the combination of bacon miso and soy sauce produces a very salty broth.

Try to avoid removing ingredients as this will affect the flavour of the broth.

Other topping ideas:

- Sliced mushroom

- Raw meat (beef, chicken, pork are common). Add in after removing garlic ginger and bacon. adjust cooking time as needed.

- Cooked meat. Add in at end to heat through.