Submitted by Leya Dickey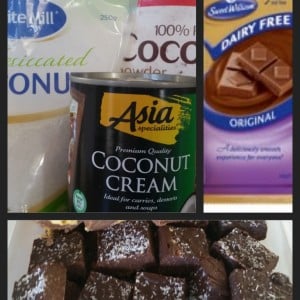 Dairy and gluten free vegan coconut fudge
Ingredients
- 500g dairy and gluten free vegan milk chocolate

- 400mls coconut cream moose

- 3/4 cup desiccated coconut

For mousse you will need:

- 400mls coconut cream

- 3 tablespoons of cocoa powder
Instructions
Chocolate coconut moose:

Whip 400mls coconut cream and cocoa powder until light and fluffy and leave in fridge until set (can take anywhere from an hour to 24 hours)

Fudge:

Add chocolate, mousse and 1/2 cup of desiccated coconut in slow cooker on low for 1hr and fold the ingredients using a metal or plastic spoon until nice and creamy then place in container and sprinkle remaining coconut on top then put in fridge until set.

Note: you can just use coconut cream without making it into moose but the fudge doesn't come out as creamy and rich.

My fudge set in fridge in about an hour.