Submitted by Robyn Clark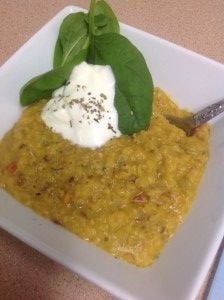 Dahl
Ingredients
1 cup red lentils

3 cups water

Pinch salt

1 diced small onion

1 tablespoon butter

1/2 teaspoon turmeric

2 teaspoons coriander

2 small chopped tomatoes

1/2 -1 teaspoon chilli

3/4 teaspoon cumin seeds

2 tablespoons minced garlic or 4 cloves fresh

Squeeze of lemon juice

Greek yoghurt
Instructions
Wash the lentils in cold water to remove any scum.

Place in your SC with the water , turmeric and salt and turn onto high.

Leave cooking for about an hour or more , depending on your cooker .

Fry off all the spices and the onion and tomato in the butter and add to the lentils.

Continue cooking on high until everything reduces and looks like soup...this took an additional 30mins in my 1.5L slow cooker (which cooks hot so yours may need longer)

Add the lemon squeeze and adjust any flavours to your taste.

Serve with Greek yoghurt.

Makes enough for 2 people.