Submitted by Janine Spurtacz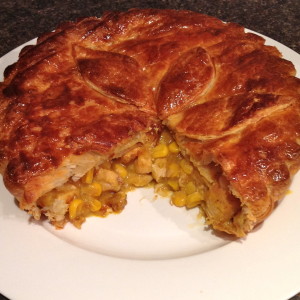 Curry Chicken and Corn Pie
Ingredients
500g diced chicken breast

1 cup frozen corn kernels

1 can condensed chicken soup

1/2 teaspoon Vegeta (vegetable) stock powder

1 teaspoon Keens curry powder

1/4 cup warm water

2 sheets puff pastry

1 whisked egg
Instructions
1. Mix the curry powder and Vegeta with the water in a 500 ml jug, add the can of soup and stir.

2. Place diced chicken and corn in the slow cooker and pour the soup mixture over.

3. Place the lid on the slow cooker and cook on low for 8 hours.

4. Pre-heat the oven to 170 degrees, spray cooking oil over the pie dish and line with puff pastry.

Pour in the cooked chicken mixture and place the 2nd sheet of puff pastry over the pie.

Pierce the top of the pie a few times and brush whisked egg over the top of the pie.