My Husbands favourite!
Submitted by: Jules Berry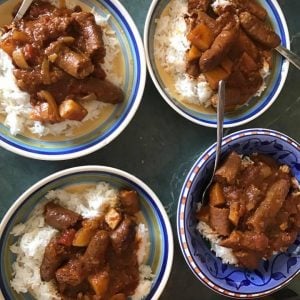 Curried Sausages
My Husbands favourite!
Ingredients
8 - 10 sausages

1/2 a jar of Curry paste - for this one I used Patak's Rogan Josh, but you can use any you wish

*alternatively, can also use a Packet of any of the Passage To India brand*

1 medium onion chopped

1 tin of chopped tomatoes

1/2 -1 cup of water

1-2 medium potatoes diced
Instructions
Place sausages in to the slow cooker - cut them up first if you wish. But I popped mine in whole and by the time they were done I could cut them with the spoon 🙂

Add the onion, curry paste, water, diced potatoes and chopped tomatoes

Give a good stir

Cook on low for 8 hours OR high for 4
Notes
Serve with either rice or mashed potato!

To serve more people just add more sausages and double the curry paste and tomatoes.