Submitted by Deanna Rankin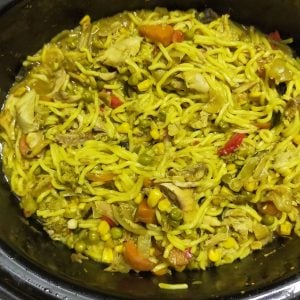 Curried Chicken with Egg Noodles
A nice warm curry chicken dish full of veggies & flavour
Ingredients
6 Chicken Drumsticks or any other cut of chicken

1 tin of chicken soup

2 tspn curry powder

1-2 tspn ground cumin seeds

2 tspn of turmeric powder

A few splashes of worstershire sauce

2 carrots sliced/diced

¾ cup frozen peas

½ cup frozen corn

6 Mushrooms sliced/diced

1 brown onion diced

½ red Capsicum sliced/diced

Broccoli – Heads & stems chopped up

1 Zucchini sliced/diced

2 packets of Wokka Thin Egg Noodles
Instructions
Place all ingredients except the noodles in slow cooker & cook on high for 5-6 hours. Remove bones from chicken legs if using them & break up the meat with a fork. Place noodles in & stir in with all other ingredients & cook for another ½ - 1 hour. Serve & enjoy.

You can change any of the amounts of the spices for stronger flavour.

You can use any vegetable combo you want. You can alter the quantities to suit yourself & your cooker.