Submitted by Deanna Rankin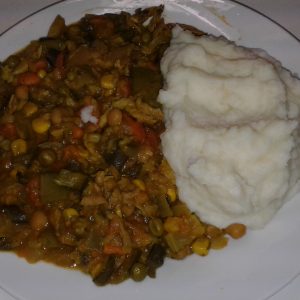 Curried Chicken & Vegetables
Ingredients
6 Chicken legs or any cut of chicken (pull bones out when nearly cooked)

1 Tin of Mushroom Soup

1 Tin of Chickpeas (Drained)

1-2 Tbls Curry Power (Qty to personal taste)

4 Cloves of Garlic

1 onion diced

½ - 1 cup of frozen Peas

½ - 1 cup of frozen Corn

Broccoli (including stems) diced

2 Carrots diced

Sweet Potato diced

Pumpkin diced

Shallots chopped

Zucchini diced

Snow Peas chopped (optional)

½ teaspoon grated Ginger

1 Handful of Brown Rice

½ cup Red Lentils
Note
You can put any type of vegetable you want of just what's left in the fridge

All quantities to personal choice & how much you want to make.
Instructions
Put all ingredients in the slow cooker & cook on high for 5-6 hours (depends on the amount you make & your own slow cooker).

Serve with Mashed potato or steamed rice.

Enjoy! 😊
Notes
The kids won't even know they are eating so many veggies.

Great for using any vegetables. Great for leftovers too.