Submitted by Karen Stuckings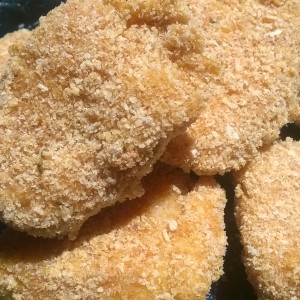 Crumbed Chicken Nuggets
Ingredients
400grams chicken breasts cut into pieces (try to make them the same thickness)

1.5 cups toasted breadcrumbs

2 teaspoons powered chicken stock (more or less to taste)

2 beaten eggs

3 tablespoons plain flour
Instructions
Place flour in freezer bag or bowl.

Place egg in separate bowl.

Place breadcrumbs in separate freezer bag or bowl.

First coat chicken in flour, shaking off excess flour.

Then coat in egg, allowing excess to drip back into bowl.

Lastly coat in breadcrumbs, shaking off excess.

Repeat egg and breadcrumb steps to double coat.

Continue until all chicken is coated.

Place in lined slow cooker, leaving small gap between chicken nuggets.

Cook on high with tea towel under lid for 1 hour or until cooked.

I used a sunbeam 5.5L slow cooker, cooking in two batches
Notes
To make toasted bread crumbs place sliced bread into food processer and pulse until crumbed. You may like to do this in couple of batches, I used 6 slices of bread.

Mix through some chicken stock.

On a lined tray, spread out breadcrumbs evenly and place in a preheated oven on 200 Celsius for 5 minutes or until lightly toasted.

Allow to cool before using.