Like Slow Cooker Central, Crock-Pot also know that slow cooking is the easy, one pot solution for all meals, all seasons, and all tastes 🙂
The gleaming silver of this stainless steel slow cooker is guaranteed to make your kitchen look better the minute you take it out!
At a 3.5L capacity it's perfect for the smaller family needing 2-4 serves or anyone with storage space issues.
It's a compact but classy cooking system that is guaranteed to please any slow cooking enthusiast.
I put this machine through its paces with several trials and every time I was 100% satisfied with its performance.  Every recipe cooked as it should, in the time that it should, and I was very happy with it!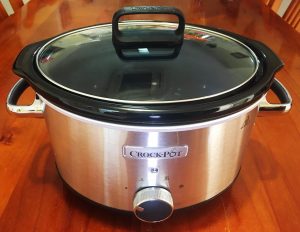 Crock-Pot believe serving nutritious, delicious, tender and affordable meals to family and friends should be easy.
Solve your mid-week meal dilemma by prepping food in the morning, setting the cooking temperature before you start your day, then come home to a delicious meal cooked at dinner time – so easy!
But Crock-Pot isn't just for dinner time.  Create snacks, side dishes and desserts with this one-pot cooker.
The possibilities are endless!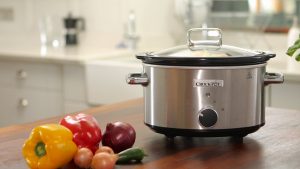 Features:
Glass lid with cool touch handle.
Removable ceramic crock insert of 3.5L capacity – this ceramic cooking bowl is also microwave and oven safe too (up to 160 degrees C) which is a fantastic feature for those who like to reheat cooked leftovers!
The heating base houses a wrap around cooking element.
Temperature control includes options for: Off, Low, High and Keep Warm
While keep warm will maintain the serving temperature after your meal is cooked, it is not intended for actually cooking your food. It is however a great addition to any slow cooker for those who wish to serve from their cookers or those needing to increase the time the food stays in the slow cooker without sacrificing any of the quality of the end result 🙂
Because convenience and time saving is often what draws us to slow cooking, Crock-Pot have taken care of the clean up for us too!
The cooking bowl is not only easy clean but it and the lid are dishwasher safe!  Or both can be hand washed in warm soapy water.
The exterior machine should only need wiping over with a damp cloth and polish dry – never place it in water.
The main handles on this Crock-Pot are also stay cool handles, great for safety in the kitchen.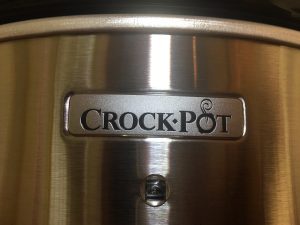 Crock-Pot is the trusted name in slow cookers but for even more peace of mind your machine also comes with a 12 month replacement guarantee 🙂
The Crock-Pot Traditional One Pot Slow Cooker comes complete with a recipe booklet to give you even more ideas to start slow cooking!
4 whole weeks of recipes no less.
The CHP200 Traditional Crock-Pot® RRP is $49.95 and is available in all leading retailers nationally.
Happy Slow Cooking 🙂