Crock-Pot believe serving nutritious, delicious, tender and affordable meals to family and friends should be easy.
Solve your mid-week meal dilemma by prepping food in the morning, setting the cooking temperature before you start your day, then come home to a delicious meal cooked at dinner time – so easy!
But Crock-Pot isn't just for dinner time.  Create snacks, side dishes and desserts with this one-pot cooker. The possibilities are endless!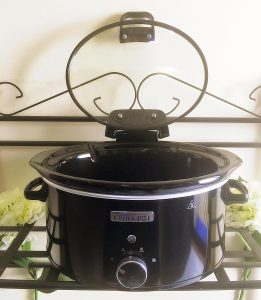 I admit I was excited to try this machine
I've long admired the Crock-Pot brand and I LOVED the idea of the hinged lid on this slow cooker so I couldn't wait to get cooking with it 🙂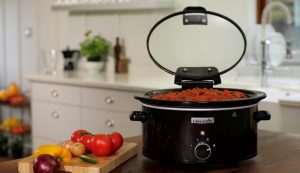 The Lift & Serve features a 5.7L removable ceramic cooking bowl
A glass lid with a hinged mechanism to hold it in place (also fully removable)
A heating base with wrap around element
A temperature indicator so you can see at a glance if it's turned on
A temperature control that allows you to choose between – Off, Low, High and Keep Warm
(Reminder: Keep warm is for keeping hot, cooked food warm for serving – never for cooking food)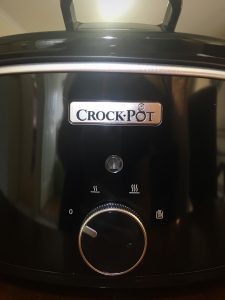 The size of this slow cooker will accommodate most meals for 5-6 people so great for a family or even singles who like to food prep and cook in bulk.
The wrap around element ensure even heating and prevents food from sticking to the bottom of the pot.
I found the cooker to be spot on for standard cooking times and heat during my trials of it 🙂
The slow cooker also features stay cool handles for easy handling.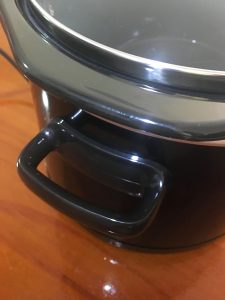 Now let's talk about the lid – I love it!
The lid lifts and stays in place allowing easy serving straight from the pot – great for parties and entertaining too.
Any food and condensation will no longer spill onto your bench top but will instead fall straight back into the bowl!
The lid easily detaches by lifting it out of its hinged slot (which you need to do before removing the cooking bowl from its base)
The removable ceramic cooking pot is even oven safe! (Up to 160 degree C)
So it can be used to conveniently reheat pre-cooked meals in.
Both the lid and the cooking bowl are also dishwasher safe so Crock-Pot really couldn't make it easier for you to Prep – Set – Forget and easily clean up after!
And the Crock-Pot Lift & Serve comes complete with a recipe booklet to give you even more ideas to start slow cooking!
4 whole weeks of recipes no less  🙂
Like Slow Cooker Central, Crock-Pot too know that slow cooking is the easy, one pot solution for all meals, all seasons, for all tastes 🙂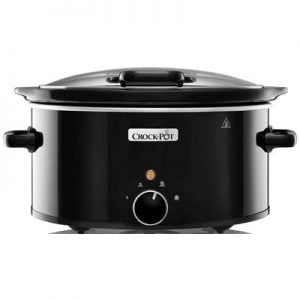 The CHP450 Lift & Serve Crock-Pot®  RRP is $79.95 and is available in all leading retailers nationally.
Happy Slow Cooking!